Romantic and whimsical, Udaipur will make you fall in love at first sight. The city of lakes is home to Rajputana forts, ornate palaces, resplendent temples, busy markets, stunning architecture, serene lakes and most romantic sunsets. The city has become a very popular destination for marriages, thanks to all Bollywood and Hollywood films that have been shot here. Yes, I am a big James Bond fan and besides all the scenic places that this city offers, I wanted to trace the footsteps of James Bond: Octopussy. The city is truly traveler's paradise and frankly speaking, Rajasthan had been on my bucket list ever since I read about it in my history books. Fantasizing about the royals, their heritage, and cultural vibrancies, I always wanted to experience the royalty of Rajasthan. So here it is Udaipur: A Complete Travel Guide that is surely going to leave an itch in your feet and desire to visit Udaipur.
How to reach -
Being one of the top travel destinations in India, Udaipur is easily accessible from all the major cities.
By Air
Maharana Pratap or Dabok Airport is located at a distance of 22 km from the city of Udaipur. Many domestic airlines connect the city to all the major cities of India including Jaipur, Mumbai, and Delhi.
By Train
There are frequent trains which run to and from Udaipur connecting Jaipur, Mumbai, and Delhi. For Luxury seekers, the train Palace on Wheels is a very good option. You can find more information about the palace on wheels.
By Road
If you want to drive to Udaipur, the roads are fairly good. There are many private and state buses connecting Udaipur to nearby cities and they are fairly regular.
Note: By Car
Ahmadabad to Udaipurit will take 4-5 hrs (250 km.) to reach. To avoid traffic, I will suggest leaving early in the morning.
Jaipur To Udaipur, there is two way National Highway 8(7-8 hrs drive - 400 km.) and National Highway 76 (8-9 hrs drive - 430 km.).
Meanwhile, in your journey, you can cover the place of interest on NH 8 is
Shrinath ji Temple
Haldigathi
Ekling ji Temple
Nagda lake
Sahastra Bahu Temple (Saas Bahu)
Meanwhile, in your journey, you can cover the place of interest on NH 76 is
Chittorgarh Fort
Sanwariya Seth Temple
Jodhpur to Udaipur it will take 6-7 hrs (260 km.)
Ranakpur Jain Temple
Best time to visit:
Rajasthan is home to the inhospitable Thar Desert. The summers are really hot and trust me can be really brutal. If you plan to visit Rajasthan I will suggest doing so between Octobers – March. The winter season sees many regional festivals specially Mewar Festival which is surely not to be missed. This festival takes place sometime in March. If you happen to be in Udaipur during this time, it will surely be a treat!
Quick Tips:
Rajasthan is the largest state of India. There are 4 major cities that are recommended - Udaipur, Jaipur, Jaisalmer, and Jodhpur. If you plan to visit all these cities, it is recommended to stay at least 2 nights in each city. But in Udaipur needs three nights.
If you are seeking, authentic Rajputana experience (ambiance of the hotel), try Haveli's converted into boutique hotels. They will much more economical than luxury hotels and offer almost the same experience.
If you plan to shop in Udaipur, be ready to bargain with vendors.
There are plenty of options for local transport but as I suggested you will have to master the art of bargaining. You will find autos, tuk-tuks, tourist buses and cabs but for the best rates, refer to your hotels as they will give you a better indication of rates.
The entry fees to most of the palaces are very high. If you are a solo traveller, the audio guide will work just fine. Else you can save money by just tagging along with groups who would have hired the guide. I know it is a cheap trick, but trust me when you visit Udaipur nothing is cheap :
For photography lovers, try exploring city early morning. There are a lot of Ghats in the city and it is beautiful to capture early morning life of locals on these Ghats.
Things to See:
Experiencing Udaipur is all about reliving royalty and appreciating the city's man-made beauty. Udaipur is rightly named as 'Venice of the east' because it is around the azure lake, hemmed in by the lush hills of the Aravalli's, a vision in white drenched in romance and beauty. One of India's most romantic cities, Udaipur is full of dreamy vistas and experiences. To experience this romantic beauty here are few things to see.
Day One
Jagdish Temple
Built by Maharaja Jagat Singh in 1651, Jagdish temple is a true example of Indo- Aryan style architecture. Carved with the statues of Gods and Goddesses, Jagdish temple was built in Vastushastra style. The temple is situated in the town not far from Tripoli (Three arched) Gate of the Palace and there are no entry fees to visit the temple.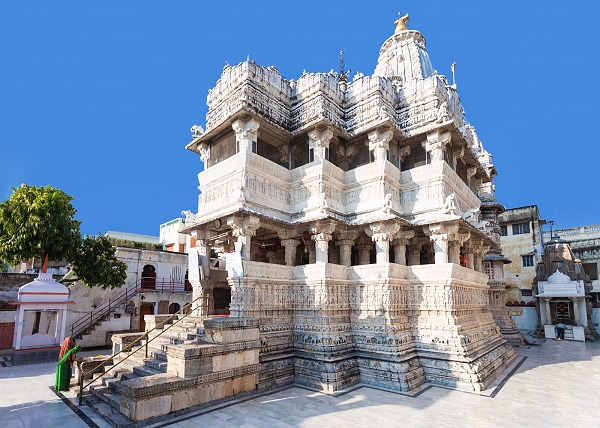 ---
City Palace
Symbolising the awesome architecture, city palace will be your first stop in Udaipur. The palace symbolizes the Rajput military architecture and Mughal-style embellishment built by 22 different Maharajas between the 16th and 20th centuries. Much of it is now a museum, which is spread out through several palaces and is entered through the imposing Tripoli Gate. It is worth buying one of the catalogs that detail each room. If visiting take following things into account. You can get more details.
Visiting hours: 9 am to 5:30 pm. Last tickets sold at 4:30 pm. (note that irrespective of day, the ticket lines are huge. Add one hour of waiting time to get the tickets.)
Ticket Prices: Audio Tour available in French, Spanish, English and German @250 Rs. If you plan to see light and sound show, you will have to buy a separate ticket.
Note: In olden times the ruler was weighed on his birthday and his weight in gold distributed among his subjects. Yeah, talk about royalty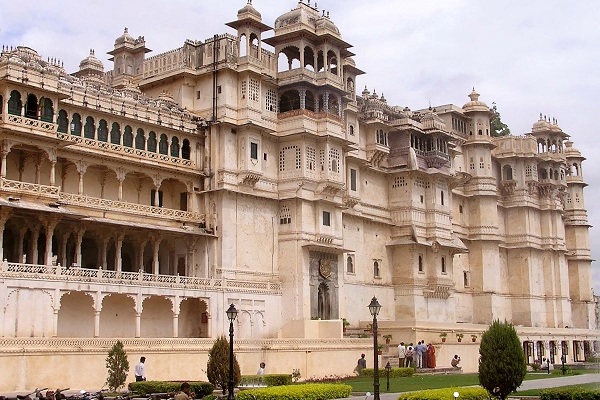 ---
Lake Pichola
Clearly the lifeline of Udaipur, you cannot miss visiting Lake Pichola. Pichola Lake is one of the most beautiful and picturesque lakes of Rajasthan. Located in the heart of the city, Pichola Lake is the oldest and one of the largest lakes of Udaipur (3 miles in length and 2 miles in width with up to 30 feet deep at places). Pichola Lake is enveloped with lofty palaces, kothis, bathing ghats, temples and hills on all sides. How to best enjoy this lake? Take a sunset tour, and you will undoubtedly fall in love with this city. You will see many locals taking bath in the lake, but I will advise not to.
Visiting Hours: 9 am to 6 pm (Ticket window will be closed on 04:20 pm)
Ticket Prices: Regular boat ride ranges between 200-300 Rs. If you plan to take a sunset cruise, it starts at 500 Rs. Brush up your bargaining skills, and you might be able to get a better deal on this.
Money Saving Tip: If you plan to go on a sunset cruise in Lake Pichola, club it with a visit to Jag Mandir. This will save you around 500Rs. You can take an evening trip to Hotel Jagmandir which will give you an opportunity to return back by sunset.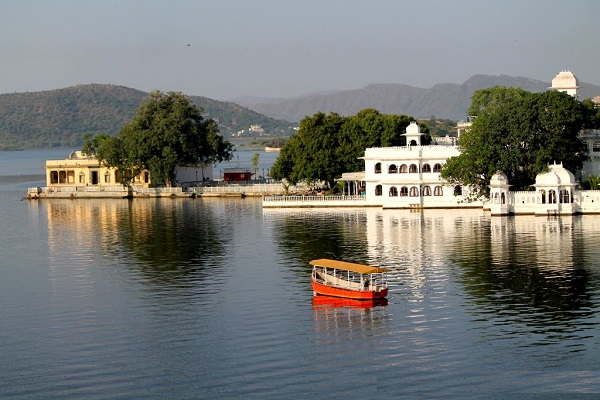 ---
Jag Mandir
Located majestically on an island on Lake Pichola, the only way to reach Jag Mandir is by a boat ride. This 17th Century architectural marvel is very famous for destination weddings and is a very popular spot for film shootings. The striking feature of this architectural marvel is the spacious courtyard with black and white marble tiles and gardens on the east side filled with flowers. As you enter Jag Mandir, you will see eight life-size white marble structures of Elephants placed near the boat ramp on the island. You can definitely enjoy a good meal at hotel Jag Mandir, needless to say very expensive.
Fun Fact: This Palace also has a Hollywood connection it was used in the 1983 James Bond film Octopussy as the residence of Kamal Khan, an exiled Afghan prince.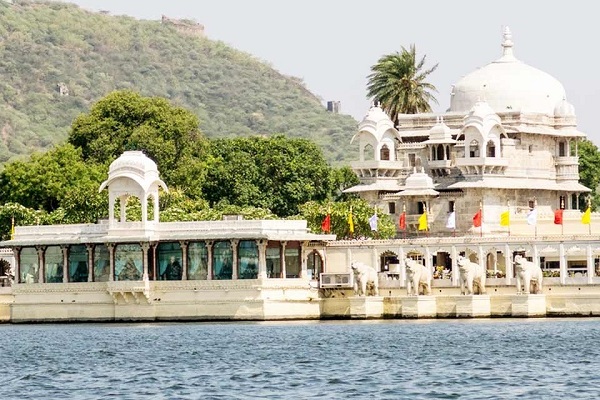 ---
Karni Mata Temple (The Cable Car / Ropeway)
Head to the Karni Mata ropeway, which is near to the lake Pichola itself. This place gives you a mesmerising view of the city, Lake Pichola, and City Palace. The afternoon is certainly not a good time to visit in summers, go in the evening if you have more than one day.
Timings: 9 am to 9 pm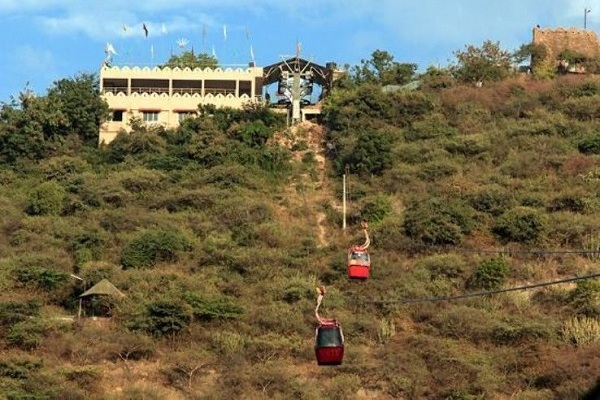 ---
GanGaur Ghat
Gangaur ghat has different moods to it. If you visit this early morning, you will catch people doing the daily rituals, temples around resonating with chants, evenings adorned with the twinkling of lights whereas in the day it can become really chaotic and super busy. I visited the ghat early in the morning and I was happy I chose that because there was not much traffic and I was able to walk to the ghat. Also, there were no beggars, so yes the place was calm. There is no entry fee for the ghats but yes it gets really crowded at times.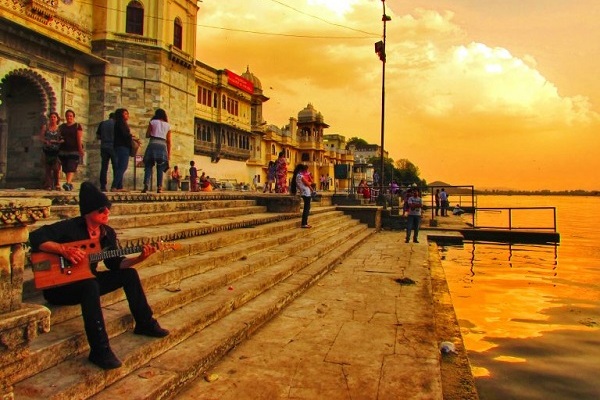 ---
Ambrai Ghat
As soon as you come out of the restaurant, take an immediate left (walking); you will find yourself on the Ambrai Ghat. This place is peaceful and serene (You will see this Ghats while boating in Lake Pichola). Sit on the stairs, dip your legs and spent some time here, witnessing the silence of the lake.
Timings: 6 am to 10 pm
Entry fee: Nil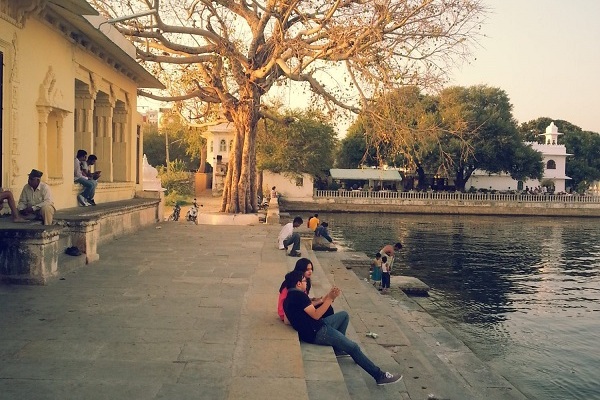 Day Two
Lake Fatehsagar:
Located towards the north of Lake Pichola, Lake Fateh Sagar is a manmade lake. It is surrounded by a number of hills on the three sides and Pratap Memorial on the north. The best way to enjoy the lake is by boat ride. I will not say that it is a must do but an early morning or late evening walk around the lake will be more pleasant and save you money as well. A motorboat ride in Lake Fatehsagar cost around 300 Rs.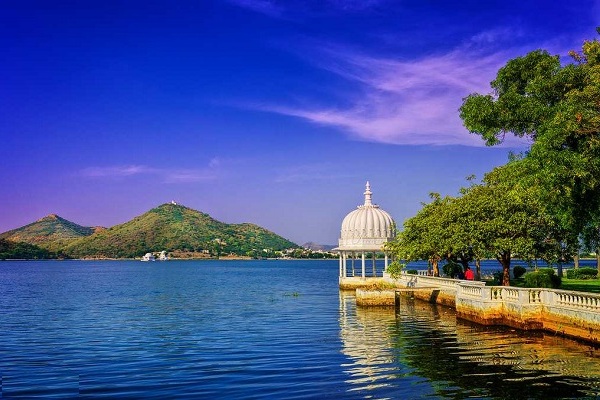 ---
Sajjan Garh Fort
Also known as Monsoon Palace, the first glimpse that you will get of this for sitting as a crown on the top of Aravalli hills is from the City Palace. The problem with Udaipur is that whole city comes to life in the evening. Every nook and corner looks pristine and it is hard to prioritize what to see on a sunset. Sajjangarh is no different than Jag Mandir or Lake Pichola. The best time to visit this place is during sunset. I missed doing that since I was there for 2 days and 1 night, so I got to spend only one evening in Udaipur. Built in 1884, Sajjangarh palace, is a is a hilltop palatial residence in Udaipur overlooking the Lake Pichola. It offers a panoramic view of the city's lakes, palaces, and surrounding countryside. Since the fort is located on the outskirts of Udaipur, you will need a car or taxi/jeep to reach the hilltop. The Fort is also surrounded by the Sajjangarh Wildlife Sanctuary. Timings: 09.00 am to 06.00 pm (Entry will be close on 05:00 pm)
Entree Fee: - Individual - Rs 80 , Car- Rs 20/65, camera/video- free/Rs20.
Lake Fatehsagar is open all days 08:00 am to 10:30 pm
Entry fee: ₹72 for adults, ₹36 for children for Indians. ₹300 for adults and ₹150 for children for foreigners.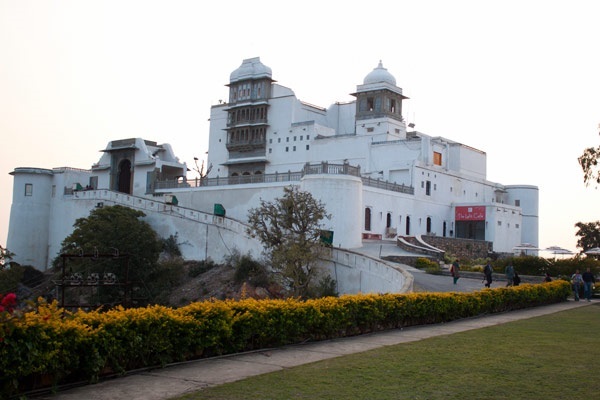 ---
Sahelion ki Bari
Roam around the Sahelion ki baadi if it is not a hot day. Famous for its lush green gardens, colourful flowers, and marble fountains, it is a popular tourist attraction in Udaipur. The garden has four water pools, chiseled kiosks, marble elephants, the lotus pool and bird fountains.
Timings: 8 am to 8 pm
Entry fee: ₹5 per person
---
Udaipur is a paradise for architecture lovers and an incredible destination popular for its formidable monuments and colorful culture. The splendor of its palaces, the history of Haveli's, the magical narrow by-lanes of the old city and the natural beauty of the lake, - will surely cast a spell on you. Have you been to Udaipur? How was your experience, do share it in comments. Thank you for stopping by.